We believe in the power of prayer. Please pray with us for the babies in our care, for our staff and their families, as well as for the needed funds and provision to continue the work. Our God is faithful to answer our prayers and we praise Him for his goodness.
Butterfly Home is fully reliant on the generous donations of friends and corporates to keep our doors open. As one of the only projects in South Africa providing full-time palliative care to orphaned and abandoned babies, our work is in great demand and there is a huge need! We appreciate any form of donation, be it nappies and baby formula, or finances. We know that it takes a village to raise a child and we are truly grateful for the generous donors who help us care for these precious children.
EFT Details
Butterfly Palliative Home
FNB Cheque Account
Acc. No: 62857825742
Branch: 250069
Swift Code: FIRNZAJJ
Donate via PayPal
Make a donation right now by following the PayPal link below. Simply choose the amount and press send. 
This is a special way to make a donation towards a specific child. For only R2000 p/m you can help Butterfly Home care for an orphaned or abandoned baby with palliative needs. You can even club together with colleagues or friends for a child sponsorship. You will be added to a WhatsApp group for your child where you will be updated and sent pictures regularly. Sponsors are also welcome to arrange video calls with us to check in on their child and to have a chat with them.
4. Have goodies delivered to our doorstep!
Many online shops such as Takealot.com, Clicks online and Dischem online deliver goods to us. Deliveries can be sent to:
Dr. Christoff Bell
Butterfly Palliative Hospice
Mosvold Hospital
Main Road
Ingwavuma
3968
Cell: 0731740199
Below is a list of goodies which we are always in need of: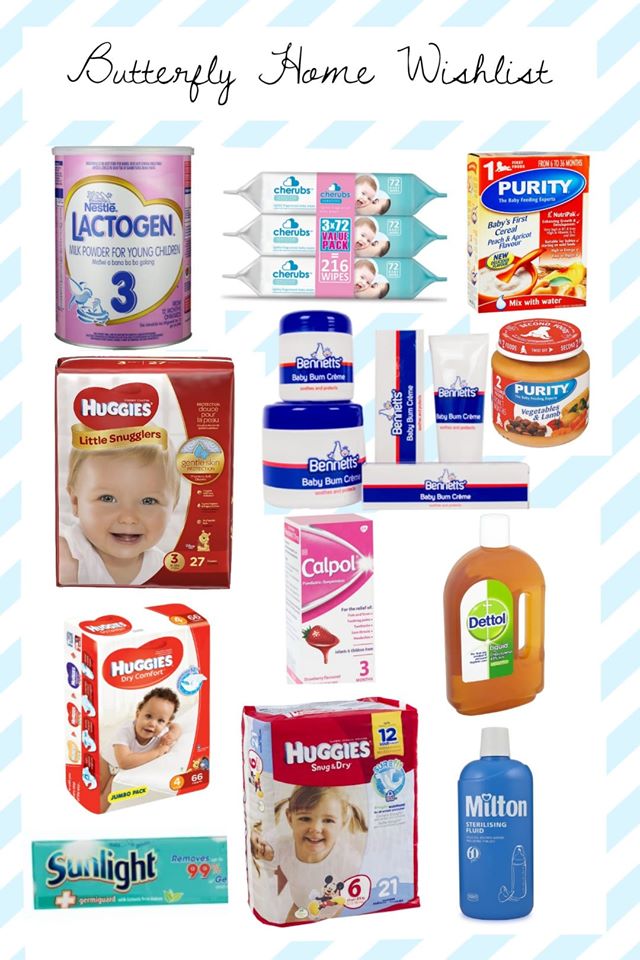 A fun and interactive way for donors to generate funds for Butterfly Palliative Home is to have an event. This can be anything from asking your friends to donate goods or money to BPH instead of buying you a birthday or baby shower present, or more formal in the form of a fundraising event. Ideas for these include murder mystery evenings, fancy dress balls, sports or athletic events, arts evenings etc. All with the aim to have fun and raise support for our babies in the process. If you would like to host a fundraiser, please feel free to contact us for more information or out powerpoint presentation and promo video.
Butterfly Palliative Home is always in need of on-site volunteers to help with our everyday activities. Volunteers can either be medical or non-medical.
Medical volunteers (of which we are in great need) include:
- Nurses
- Occupational Therapists
- Physio Therapists
- Speech and Language Pathologists
- Home-based Care Workers
Other activities for volunteers include helping to care for and stimulate our butterflies; food gardening; cooking; building and maintenance; fundraising; admin and tech support; as well as helping our staff with their own families when they need to tend to the butterflies.
We have accommodation in our rustic 4-bedroom volunteer house which is self-catering and free of charge to volunteers.
Anyone who has a passion for Jesus and for lending a helping hand is welcome to volunteer. We do prefer that volunteers commit to at least two weeks or more since it involves a lot of time and admin. But please pop us a message if you are interested and we can have a chat!